TI MSP430 vs Freescale Kinetis: a price comparison
2013-11-06
I've been using MSP430 microcontrollers for a while now, but I wanted to look into something more powerful, but not necessarily much more expensive. I believe component cost is a major factor when designing electronics (for many reasons).
I found the Freescale Kinetis line of devices, which looks really good capability-wise. So let's try to compare the pricing of (some) MSP430 devices and (some) Kinetis K and L series devices, with a Tiva-C (Stellaris) thrown in for comparison.
Here's the table of prices compiled from Farnell. The prices are in PLN, but it really doesn't matter that much, I cared mostly about the relative pricing. Divide by 3 to get USD if you need to. All prices are from the first price break (usually qty 10), and I only chose devices that make sense to me in my projects.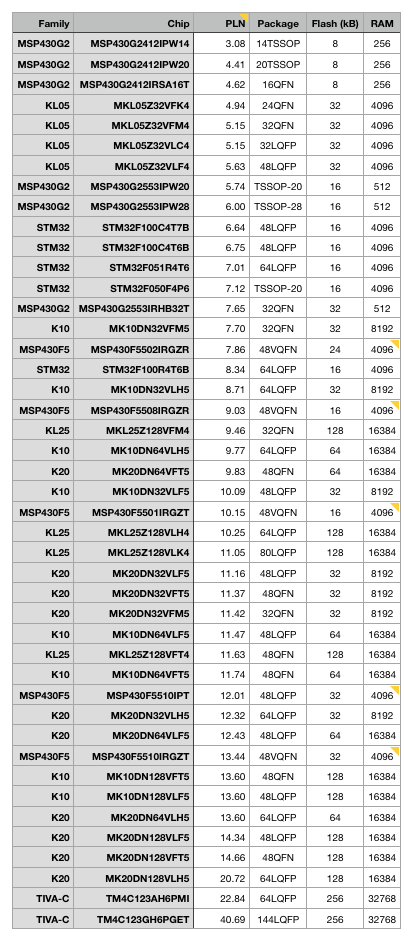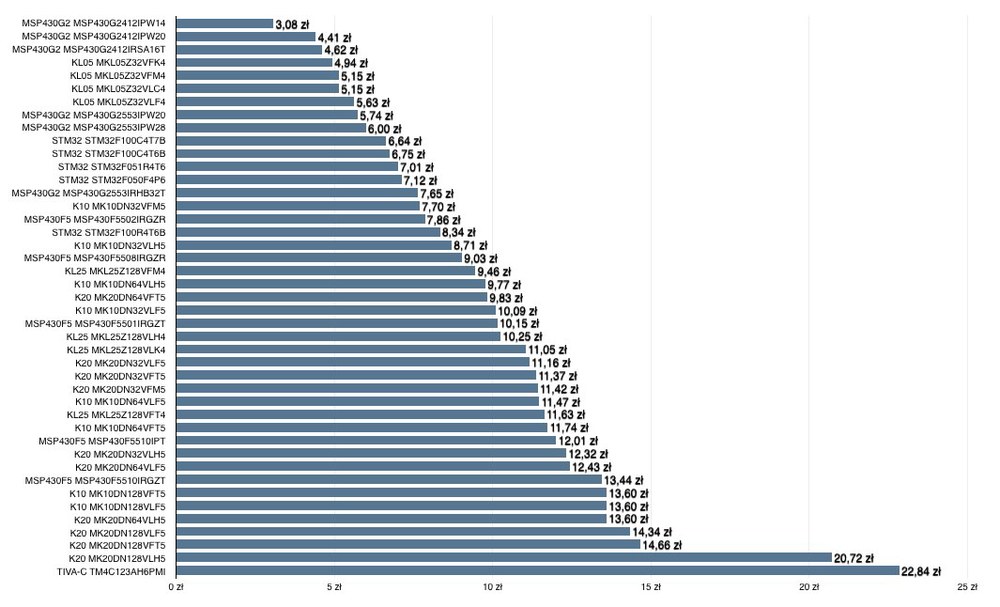 Things I noted:
The low-end Kinetis KL05 devices (MKL05Z32VFK4, MKL05Z32VFM4, MKL05Z32VLC4 and MKL05Z32VLF4) are almost the same price as the tiny MSP430G2412 (~$1.60-$2 or so). That is amazing, considering they are modern 48MHz 32-bit ARM processors, have 4 times the flash memory, 16 times the RAM, and many more peripherals (G2412 has no ADC).
It makes little sense to use the MSP430G2553 unless you already have designs using it (I do).
The cheapest USB-capable device in the kinetis line is the KL25 (MKL25Z128VFM4). It is slightly more expensive than the USB-capable MSP430F5502, but with much more flash and RAM. Also, Farnell doesn't sell cheaper KL25 devices, I suspect they would end up being the lowest cost USB solution.
The first K10 (MK10DN32VFM5) at roughly $2.50 is a 48MHz Cortex-M4 core with DSP instructions.
The first K20 (MK20DN32VLF5) is only 3 times as expensive (at $3.65) as the tiniest MSP430 I use. That is also amazing.
Tiva-C (TM4C123AH6PMI) is only price-competitive if you need large memory sizes and floating-point. Sadly, it makes zero sense to me as a hobbyist — also because I could not find Code Composer licensing terms for Tiva-C devices. For MSP430 there is a 16kB memory limit.
My key takeaways from this:
I will switch to Freescale Kinetis (KL05, KL25 and K20) for most of my new projects. The chips are good, inexpensive, and the tools are free (CodeWarrior is free up to 128kB, which covers all low-end devices I might want to use).
I will continue to use MSP430 in either legacy projects, for really simple projects, or for designs where every microamp counts (another blog post on power consumption of MSP430 vs Kinetis is coming).
Sadly, the Tiva-C (formerly Stellaris) which I had high hopes for, isn't an option at all. It's way too expensive plus it isn't clear if developer tools will be free.
---
Comments