Why I will steal music
2009-09-17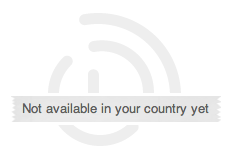 Dear Music Industry Executives,
This is to explain why I will "steal" music using BitTorrent, eDonkey and any other easily available means.
I will not do it because I want to save money or because I'm cheap. Far from it. My 600-or-so CD collection packaged into boxes and stored in my basement should attest to it.
I've been trying to pay for music online. I really have. I wanted to use the iTunes store, but it doesn't sell music or movies in my country. I tried to register as a US customer, but a US-based credit card is required to do that.
I managed to buy several albums from Amazon MP3 right when it opened, before it told me my money was not welcome ("Please note that AmazonMP3.com is currently only available to US customers"). Hulu told me its video library can only be streamed from within the United States.
I own a Sonos system, so I tried to get a Rhapsody subscription. But they didn't want my money ("The Rhapsody MP3 Store is currently only available inside the United States"). Pandora didn't want me either ("We are deeply, deeply sorry to say that due to licensing constraints, we can no longer allow access to Pandora for listeners located outside of the U.S.").
Spotify was a glimmer of hope (it isn't in the US!), until it told me that "Unfortunately, due to licensing restrictions we are not yet available in your country."
So, in spite of my best efforts over the past several years, I have been unable to pay for music online. And frankly, I'm tired of trying. What difference does it make which country I'm in? Is my credit card any different from any other one? Are my dollars/euros of lesser value?
You have been playing your silly regional games and you think you can keep playing them forever. Make these people wait. Release the album here, see if it gets traction, then price it higher there. Regionalize DVDs to control releases and pricing. Well, the game is over.
From now on, I will have no qualms about downloading digital music. I will continue to buy from sources that want my money (Magnatune, artists like Ronald Jenkees). For everything else, I will just download it. It only takes a couple of minutes anyway.
So, next time you wonder about why your sales and profits are declining, remember — it's because you didn't want my money. And perhaps instead of complaining about P2P, hiring hordes of lawyers or buying expensive ad campaigns it is easier to simply start SELLING your stuff to people who want to pay for it.
---
Comments